Coming to Monsalut
Locate the lodging of the domain of Monsalut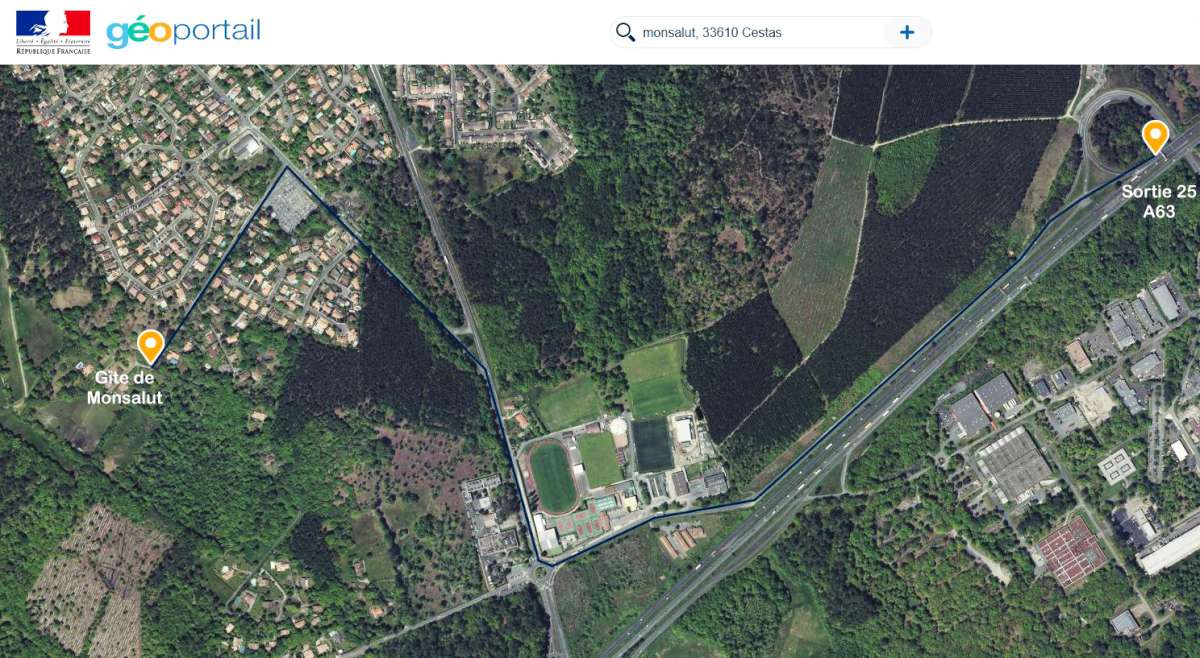 To go there :
From the Bordeaux ring road, take the A 63 Bordeaux/Arcachon Bayonne motorway. Take exit 25 Cestas. Drive 1.5 km. At the first roundabout follow the direction to the right towards Cestas-Gazinet (do not go towards Cestas-Bourg) between the college and the sports center. At 500 m turn left towards Gazinet shopping area. Do another 600m. Chemin de Caussat is located on the left after the cemetery and before the Conserves PIQUET (sign Gîte rural de Monsalut). Go to the bottom of the path (500 m). The white gate is the entrance to the gîte. To enter the premises, contact Monsieur and Madame Guibert, on the estate at the bottom right of the hamlet. Villa "Les Espandelles" (white gate).
GPS coordinates :
44°45'44.4"N
0°41'55.9"W
i.e. 44.762324, -0.698863
Please note that the GPS often indicates 21 in the middle of the Chemin de Caussat; you have to go to the bottom of the road.
code to copy and paste into Google Maps on your smartphone:
And to visit Bordeaux without driving, a park and ride is available 6 km away at Pessac Alouette (France-Alouette station). For a flat rate of 4.50 €uros you can leave your vehicle all day and you are entitled to a return trip by tram for you and your passengers (up to 5 people).
You can also take the TER at Gazinet station located 1 km away. Many trains can drop you off in Bordeaux or Arcachon.
An urban bus is also available at the Gazinet post office.